History
Sinagua, Anasazi and Cohonina Indians were the first to settle in the area of Flagstaff.
Flagstaff derived its name from a flag-raising ceremony held on the Fourth of July in 1876. Boston travelers chose a tall pine, trimmed its branches from the bottom up and attached a flag to the top in of observance of the nation's centennial.
Flagstaff's early development was associated with the railroad, lumber and livestock industries.
Northern Arizona University, which calls Flagstaff home, was founded as the Northern Arizona Normal School at Flagstaff in 1899.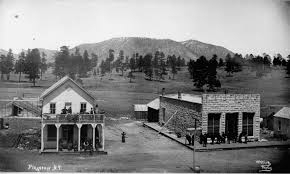 Location
Flagstaff is situated in the pines at an elevation of approximately 7,000 feet (2,134 m), near the base of the San Francisco Peaks.
Mount Humphreys is the highest point in Arizona and towers above Flagstaff at 12,633 feet.
Flagstaff is located near the center of Northern Arizona at the juncture of Interstate 17 and Interstate 40, about 150 miles north of Phoenix, AZ and 80 miles south of the Grand Canyon.
Flagstaff is the county seat for Coconino County, the second largest county in the United States, with an area of 11,896,720 acres.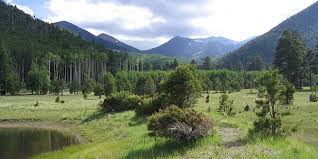 Arizona's Cool Mountain Town
The city enjoys a four-season climate.
Altitude and low humidity combine to produce clear air and relatively mild weather conditions year-round.
Flagstaff averages 288 days of sunshine per year.
In the fall, stands of Aspen trees turn golden creating a scenic autumn setting.
Annual high temperature: 60.8°F
Annual low temperature: 26.8°F
Average temperature: 43.8°F
Average annual rainfall: 23 inches
Av. annual snowfall: 101 inches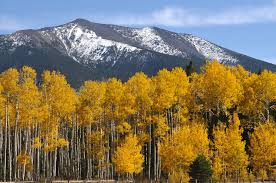 Flagstaff Trivia
Pluto was discovered at Lowell Observatory in Flagstaff, AZ.
The famous Route 66 runs directly through Flagstaff, and Flagstaff was the city with the highest elevation on the historic Route.
The Hotel Monte Vista, Weatherford Hotel and Museum Club, among other places in Flagstaff, are believed to be haunted. Guests have reported seeing "spirits" or having supernatural experiences.
The Museum of Northern Arizona houses more than 5 million southwestern artifacts.
Sunset Crater Volcano is just one of over 600 volcanoes located in Northern Arizona.
Flagstaff is home to the Flagstaff Urban Trail System (FUTS) which encompasses approximately 50 miles of trails throughout the city and includes areas on all sides of town.
Flagstaff is located in the world's largest contiguous ponderosa pine forest.
Walnut Canyon was originally home to the Sinagua Indians, who lived in the area in the 1200s before volcanic eruptions drove them out.
On average, 100 trains pass through Flagstaff in a day.
Riordan Mansion was designed by Charles Whittlesey, designer of the Grand Canyon's El Tovar Hotel.