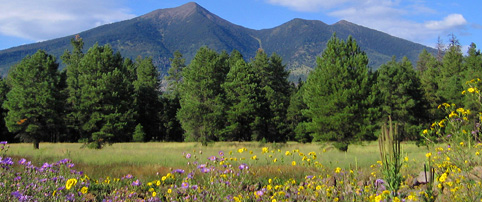 Flagstaff, a small city in Northern Arizona, is named after a ponderosa pine flagpole. It's abundant with mountains and pine trees. But albeit a small city, it has an active cultural scene. They have plenty of cultural activities provided by both Coconino Community College and Northern Arizona University. They have museums, festivals, theatres, concerts and film series.
The city is also surrounded by the national forest, camping and picnic sites, golf courses and lots of open spaces. It's an ideal place for hiking, climbing, skiing, golfing and biking. Here are some things that you can do in Flagstaff, Arizona.
Explore the Universe at the Lowell Observatory
Tour the entire facility with highly knowledgeable guides that will educate you about the cosmos. Interactive exhibits, live presentations and multimedia shows are available for the knowledge-seekers and astronomy enthusiasts. Lowell Observatory is the world's first international Dark-Sky City and a must-see in Flagstaff.
The Meteor Crater, a 50,000-year-old meteorite site, is another must-see attraction. It features viewing rooms, Interactive Discover Center, an Astronaut Memorial Park and a visitor center. When you can, try to also see the Lava Tube Cave, a molten rock formed about 700,000 years ago. Both the meteor crater and the molten rock are interesting sights.
Visit the Museum of Northern Arizona and the Riordan Mansion
Learn about the cultural and natural heritage of Flagstaff at the Museum of Northern Arizona, founded in 1928 and houses more than 5 million artifacts. The Riordan Mansion is another attraction worth a visit. It's a wonderfully-built structure in 1904 that belonged to the Riordan family, owners of the largest employers in Arizona.
Explore the Outdoors
Walnut Canyon National Monument is a historic place and a top attraction located southeast of Flagstaff. It's a serene, peaceful and beautiful spot. Wupatki National Monument, 35,000 acres of desert contains Native American ruins. Crack-in-Rock, Wupatki (which means tall house) and Wukoki ruins are inside Wupatki National Park.
If you love golf, Flagstaff has luxurious mountains, ranch, and farm properties perfect for the golfer in you. It features picturesque and astounding views that offer perfect relaxation.
White water rafting is another outdoor activity ideal for adventurers. The trip will be from the Colorado River to the Grand Canyon. Boating, kayaking and other water activities are also available.
There are several things that you can see and do in Flagstaff. Seeing the Grand Falls is one of them. Remember Willy Wonka and the Chocolate Factory? These falls will remind you of that fantasy movie. The only difference is, refreshing waters and not chocolates, flow through these falls. It's a sight to be seen.
If you love animals, you can visit Bearizona Wildlife Park where you get up close with wolves, bison and bears. You can also witness birds show at the wildlife park and be fascinated with these beautiful creatures.
You will never run out of things to do in Flagstaff. This city has varied attractions all worthy of your time.